The Lim Tze Peng Art Gallery
The Lim Tze Peng Art Gallery (林子平艺术馆) was first opened on 10 July 2014 by PM Lee Hsien Loong during the school's 75th Anniversary Dinner. Mr Lim is an alumnus of the school and became an artist though he was also a teacher by training and profession. He was awarded a Cultural Medallion in 2003 in recognition of his contribution to the country's art and culture. Additionally in 2016, he was also conferred The Meritorious Service Medal (Pingat Jasa Gemilang) by the Singapore Government for his outstanding contributions as an artist to Singapore. Mr Lim has generously donated a collection of his works to the school in the setting up of this art gallery in Chung Cheng High School (Main) for the benefit of future generations of students and student artists.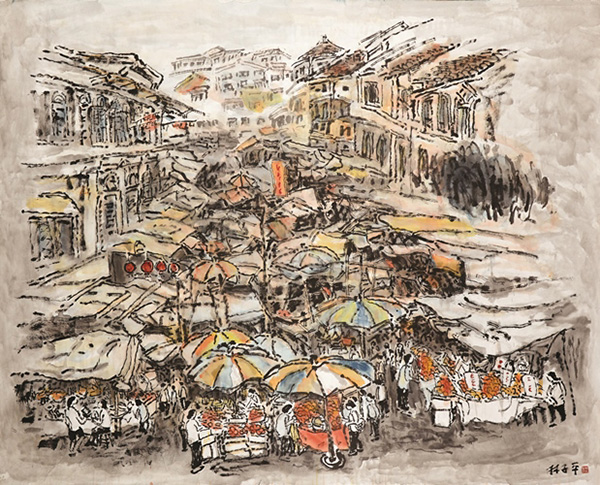 Mr Lim is currently one of the most well-known Chinese ink painters in Singapore. His works are exhibited in many major institutions such as the Singapore Art Museum and the Nanyang Academy of Fine Arts. Mr Lim is very much known for his ink drawings of Chinatown, Singapore River and other Singapore scenes. In his drawings he has sought to capture as much of the disappearing street scenes of Singapore in face of the rapid urbanizing developments of our country. The Lim Tze Peng Art Gallery collection holds his works spanning his entire career including, oil paintings, Chinese Calligraphy and ink paintings. They are all found in a catalogue produced by the school and the book is on sale to the public.
The Lim Tze Peng Art Gallery is now featuring the "Poems from the Heart" Exhibition.
Visit our microsite: https://go.gov.sg/limtzepeng-artgallery
Opening hours to public:
Every Thursday and Friday 1-5pm except public and school holidays.
Queries can be directed to cchms@moe.edu.sg or Tel: 6344 1393.